Web Site & Computer Network Solutions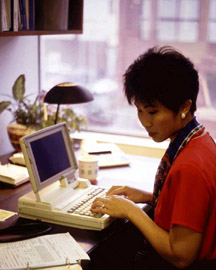 To help determine the right track to reach tomorrow's goals and to compete in a fast paced business environment, today's business organizations need up to date information technology to store, process and communicate accurate, current information.
From the days of cave paintings to today's modern computer networks, evolving information technology has enabled each of us to better record, locate, analyze and communicate accurate information with others. Efficient use of technology can reduce costs, improve performance and make new things possible for business organizations.
Today's Internet provides businesses and other organizations the opportunity to deliver current information about products and services to interested individuals and organizations throughout the world. Those seeking information can find information about products and services available. Individuals and organizations can communicate with each other across town or around the world using the internet.
Providing Technical Expertise:
Digital Network Express is focused on providing the technical expertise to help ensure client businesses are taking advantage of today's computer and communication technologies by providing:
Internet Solutions including web site design, implementation, maintenance, and digital photography; email, mailing list and web site hosting is also provided through a partnership with iPowerWeb;

Local Area Network Solutions including network evaluation, installation, support, upgrades and documentation; installation and support of routers and internet firewalls designed for small business DSL connections;

Personal Computer Solutions including computer hardware and application software evaluation, installation, repair, support and upgrades.
Our consultants are experts who have practical experience with computer hardware, software and the industry's rapidly changing technology. They use, recommend and install the latest products, and help business organizations and individuals utilize the capabilities of the technology they own.
Digital Network Express is an information technology consulting group located in Burbank, California.
| | |
| --- | --- |
| Entire web site copyright 2002-2008, DigitalNetExpress.com, Burbank, California. | |